To all the lucky bastards that got to go to Otakon this year, I hope you have a great time. May all the vendors have sales whenever you are around, may you meet none of the creepy people everyone has at least one horror story about, and may you burn in a lake of hellfire because I didn't get to go and now I'm jealous.
I wanted to cosplay as the Wildberry Princess from Adventure Time this year but, economic problems being as they are, I had to choose between Otakon and my yearly vacation. As I desperately need to get the hell away from work and people for longer than three days, and I do not get paid to get away from them for Otakon (and I'm writing this post), guess which one won out? I have been thinking about all the cosplays I'm going to miss so here are the top five group and solo cosplays I've never seen, but would love to...at any convention.
Group:
1. The Tri Lambda's and The Omega Mu's from Revenge of the Nerds
This would take more friends than I probably have access to, but I've always wanted to cosplay this as a group. This idea is low in cost to make, which is definitely a deciding factor for me when it comes to anything like this. It's also subtle, especially for the person playing Booger. Don't want to have pictures taken of you? Split up from the group and congratulations, you're now just another denizen of the con.
2. OK GO from 'Million Ways To Be Cruel' video
Even more points goes to the people that carry around a boombox and randomly start doing the dance.
3. Penelope, Max, Lemon, and Edward from Penelope
Not only are the clothing (well, mainly just for the chick anyways) and characters awesome, it gives you an excuse to chase your friend around and try to take pictures of her. Nothing is more fun at a con than acting like an unbridled goofball. Just make sure not to run into anyone or knock them over. ...Ok, so maybe a little bridled.
4. Malingo, Candy Quakenbush, and John Mischief from Abarat
Clive Barker's Abarat is a treasure trove of characters, each one more interesting than the next. I've never seen anyone cosplay as any of the characters and the Google only brings up one
Candy
cosplay and one magnificent
Christopher Carrion
.
Malingo is the orange guy with the skull flowers, Candy is the human, and John is the man of many heads...literally.
5. Any of the Nightbreed from Nightbreed
I will never stop loving that movie/book/comic. I've only ever found one Dr.Decker cosplay floating around the internet. Come on professional cosplayers, you know you want to cosplay as Shuna Sassi.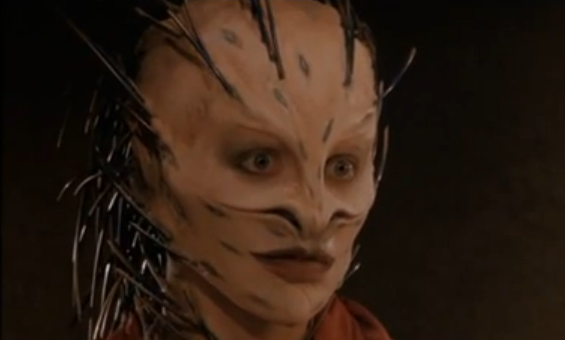 Solo:
1. Queen Marjoly from Rhapsody
Lillith from Darkstalkers cosplaying fanatics, have I got a cosplay for you. Same type of outfit just with a cape, basically.
She even has a song to go with her and an army of cats.
2. Kelly Bundy from Married with Children
Everyone wants to make a slutty version of this and a slutty version of that. What easier thing to do than just to go as a slut?
3. Nyakko or Nyatto from Cat Soup
About six years ago I saw Cat Soup, I still have the video in storage. Nyakko and Nyatto are brother and sister until Nyakko's soul gets stolen and it's up to her brother to get it back. It's a really good
short film. One worth watching.
4. Ikuno Emiru from Peephole
I'll admit I only put this one here because I'm a pervert and felt like having a hentai title. And because as far as hentai goes it has actual plot and characters with dimension, at least that's how I feel about it. Yes she basically dresses in normal clothes, but being as there are people that go to conventions dressed in a blue t shirt and jeans telling other people they're the tardis (and being serious about it), I think we can let that pass.
5. Dr.Timothy Leary
Yes,
that
Timothy Leary
.
Think about it, it would be hilarious. You'd could dress up as a hippy, hand out candy dots to people and tell them to 'Turn on, Tune In, and Drop Out'. It would be worth everyone under the age of 60 asking you who the hell you were.